Alamex potentially satisfy all operating needs
Materials such as galvanized, epoxy covered with steel sheets or stainless steel that can be used depending on the requirements of each project.
These cabins can be used
In heavy industrial applications, warehouses, supermarkets, parking lots, hospitals and shopping centers.
Using the "know how"
In hydraulic elevation, Alamex has entered the growing car lift market. The objective is to offer a complete range of equipment that provides total solutions for access to the parking area by means of elevation, rotation or lateral displacement and to increase the possibilities of parking using elevators.
The Alamex automized parking systems are ideal for commercial, public and residential use, especially for buildings with limited space, where parking positions are insufficient.
They are equipped with hydraulic lifting cylinders and ropes, in combination with mechanical interlocks, making them safer and more durable for long-term use.
Multiple parking spaces, using all available construction height.


Increase parking space, provide additional potential construction.
Low installation cost, does not need additional construction.

Ideal for limited construction areas in addition to reducing pollution.

Load capacity up to 3,000 kg.

Lifting speed up to 0.15 m/sec.

Displacement up to 12 m.

Admits the driver.

Automatic call to the outside.

Constant pressure warning inside.

Security mechanism.

Piston rupture valve.

It complies with the machine standard 2006/42/EC.
Specifications
Nominal Load


2.000 KG
2.500 KG
3.000 KG
Platform Depth FP(mm)



5.000-5.500
5.000-5.500
5.000-5.500
Platform Width

AP (mm)

2.100-2.500
2.100-2.500
2.100-2.500

tottal platform Depth (mm)

FP +50
FP +50
FP +50
shaft Depth (mm)
FP + 125
FP + 125
FP + 125
Shaft Width (mm)
AP + 500
AP + 500
AP + 500
minimum Pit (mm)
350
350
350
Free height Over Head (mm)
2.600
2.600
2.600
Following the policy of quality chosen since the creation of the company, Alame produces a wide range of hydraulic lift packages, applications ranging from elevators for cars, panoramic elevators for automobiles and large elevators for forklifts and tower car parking.
In accordance with the directive of elevators 95/16/EC, regulations En - 81, regulation PUBEL PB 10-558-03 and machinery directive 2006/42/EC.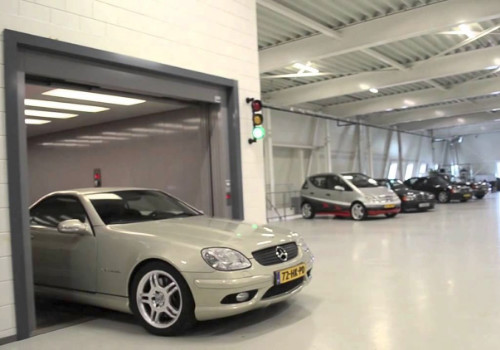 The capacity range of 20,000 kg



Route of up to 28 meters (10 stops)

Low noise level and smooth operation


Standard and automatic emergency operation


Machine room anywhere with enough space for the bucket

Newsletters
Thanks for your subscription!