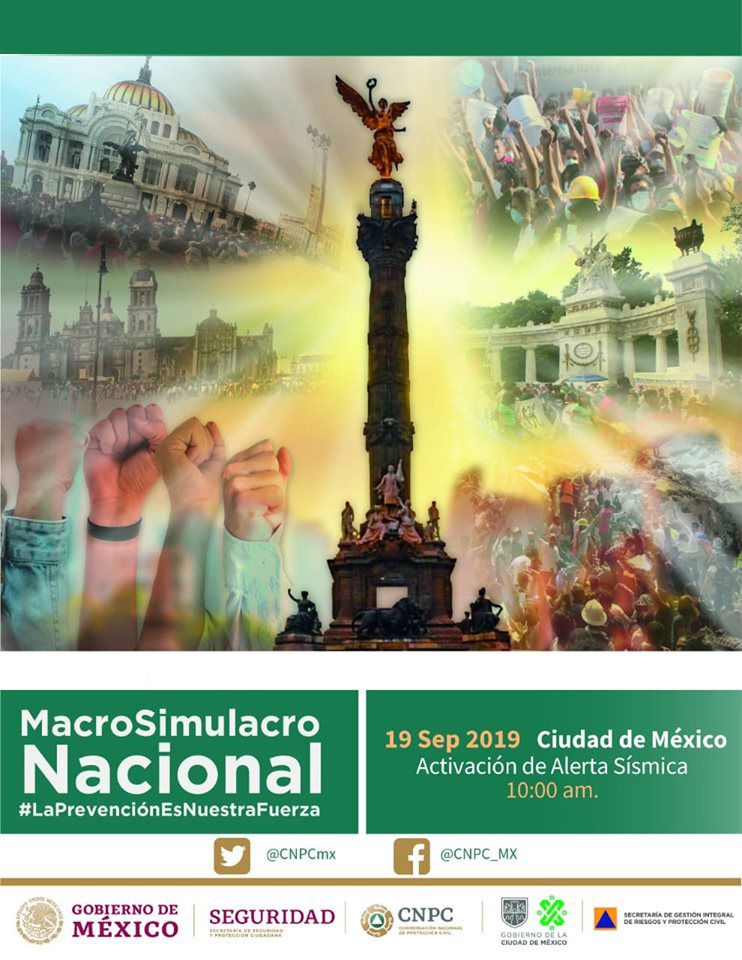 The Government of Mexico City expects the participation of six million 174 thousand 767 people in the Simulacrum 2019, which will commemorate the anniversary of the earthquakes of 1985 and 2017.
The head of the Secretariat of Integral Management of Risks and Civil Protection (SGIRPC), Myriam Urzúa Venegas, explained that it is planned that in the Simulacrum participate 10 thousand 47 real estate, including public buildings, markets, housing units, PILLARS, schools, embassies , CETRAM, as well as the National Polytechnic Institute (IPN), the National Autonomous University of Mexico (UNAM), the Autonomous Metropolitan University (UAM), the Central de Abastos, the Youth Institute and six thousand 401 private properties registered.
The Simulacrum 2019 will be held next Thursday, September 19 at 10:00 a.m., time of the center, at which time the Center for Seismic Instrumentation and Registration (CIRES) will activate the seismic alert in the 18 States that participate in this exercise.
The sound will be emitted by 12,139 speakers placed in the territory of Mexico City operated by the Command, Control, Computing, Communications and Citizen Contact Center (C5).
Phrase
"(It will be emitted) the same sound that is played when it is a real event; so it is important to stay tuned for the Simulacrum start time "
Myriam Urzúa Venegas, Head of the SGIRPC.
What to do during an earthquake?
Before
Locate objects that can become a danger during an earthquake.

Locate the escape and security zones; keep them always present.

Keep a medicine cabinet, flashlight, battery radio and canned food nearby.

It has a copy of important official documents.
During
Keep calm, do not run and go to the established security zones.

Pay attention to minors, disabled people and senior citizens.

Stay away from windows, glass, mirrors, exterior doors or walls.

Electric poles and cables are also dangerous.

Do not use elevators and stay close to a structural column.

Go to the evacuation doors if you are inside a busy place like a cinema.

Separate yourself from shelves that contain objects that may fall.

If you drive a car, stop as fast as possible and stay inside the vehicle.
After
Wait at least 10 to 20 minutes before entering the home or workplace.

Inspect the home for damage and turn off the electrical and gas system.

If the light goes out, use battery flashlights. Do not use candles or matches and avoid smoking inside.

Collaborate with the authorities and remember to have emergency numbers on hand.

Always be in solidarity with the victims of the claims.
Source: 24 Hours